Este es un mensaje del Distrito Escolar de Tulelake. Se llama día de nieve. Las carreteras están resbaladizas y no son seguras. No hay clases hoy viernes 10 de marzo

This is a message from Tulelake School District. Snow day is being called. Roads are slick and not safe. There is no school today, Friday, March 10

A reminder that Parent-Teacher Conferences will be held on Wednesday, March 8 , 2023.

Buns in the Seats starts February 1st The class with the best attendance record will receive cinnamon rolls on the last school day of the month. Attendance will be calculated by class average. More than one class may win monthly if they have the same attendance percentage. An attendance day is on time and in school for the whole day.

Tulelake has Spirit! Monday: Mix and Match Tuesday: Tropical Tuesday Wednesday: BBQ Dad or Soccer Mom Thursday: Salad Dressing Day (THS)/ Sports Day (TES) Friday: Blue & White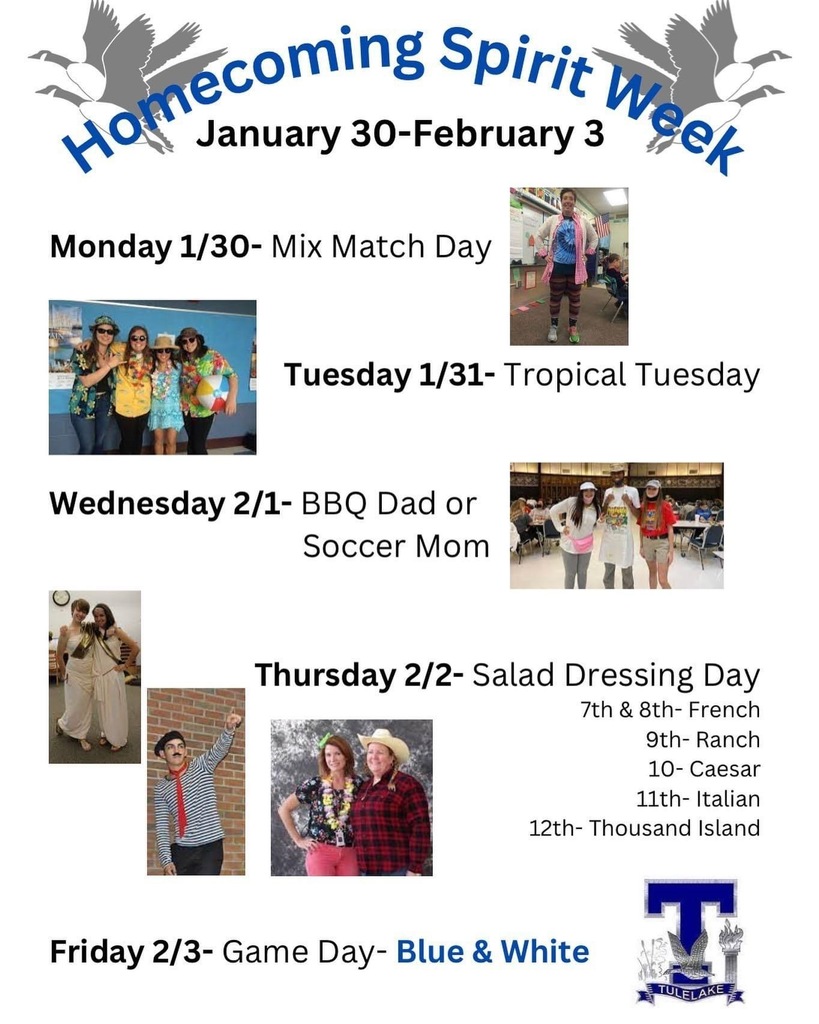 Instructions for Kindergarten Registration can be found under the "Parent" section of the Menu

Winter Break is from December 23 - January 6th. School will resume on January 9th.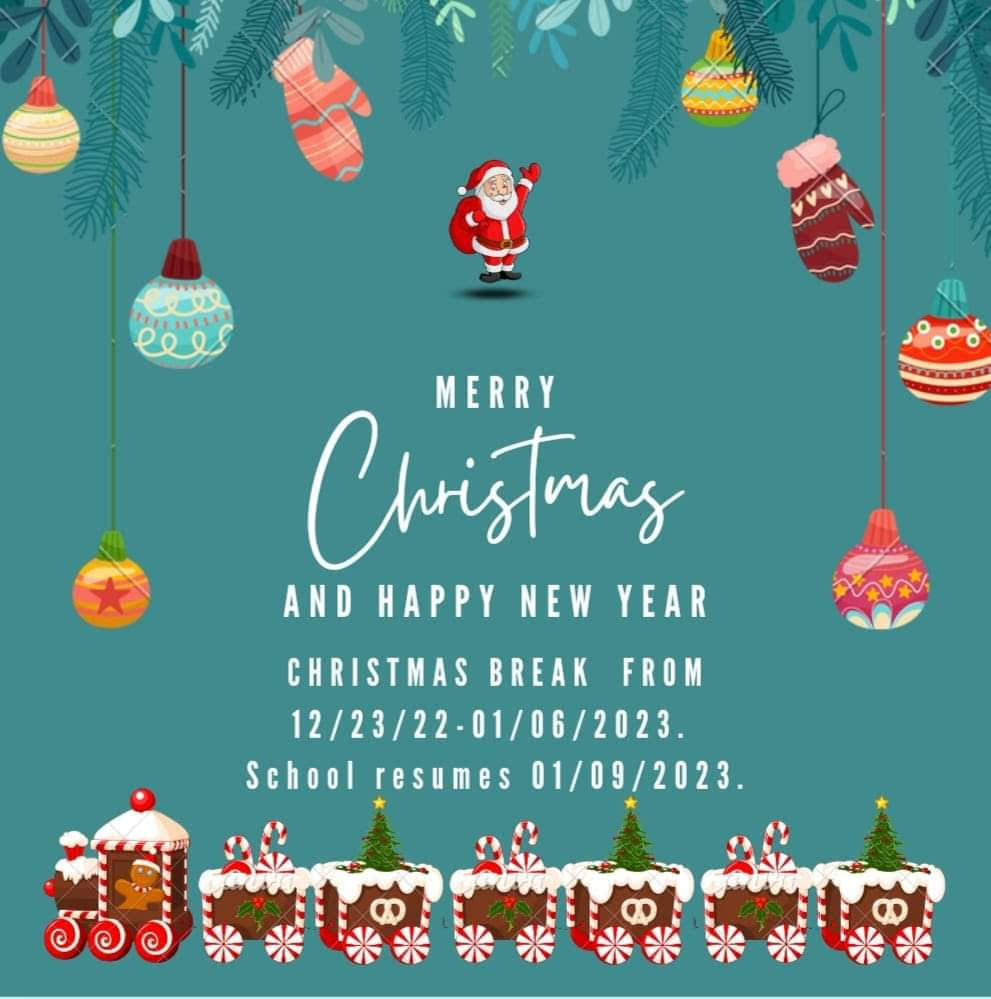 There will be a Site Council Meeting at TES at 4:30 in Room 27. All Parents of student at TES encouraged to attend. ELAC Meeting at 3:10 is for parents of student that are English Learners.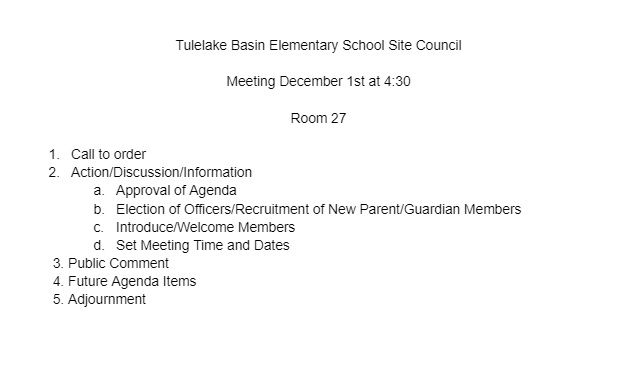 ELAC Meeting at TES Room 27 , 3:10. Parents with students at TES encouraged to attend.

3rd Annual Trunk or Treat Put your costume on and join in on the fun! While you're here, stop by for some dinner. The TES student council will be selling hotdogs, chips and a drink for $6.00. When: Monday, October 31, 2022 Were: Tulelake Elementary School Parking Lot What time: 4:00-6:00 We are still accepting candy bag donations. These can be turned into the TES office before Monday October 31, 2022. Thank you. 3er Anual Trunk-Or-Treat ¡Ponte tu disfraz y únete a la diversión! Mientras esté aquí, visítenos para cenar. El consejo estudiantil de TES venderá perritos calientes, sabritas y una bebida por $6.00. Cuándo: lunes 31 de octubre de 2022 Donde: Estacionamiento de la Escuela Primaria Tulelake A qué hora: 4:00-6:00 Todavía estamos aceptando donaciones de bolsas de dulces. Estos pueden ser entregados en la oficina del TES antes del lunes 31 de octubre de 2022. Gracias.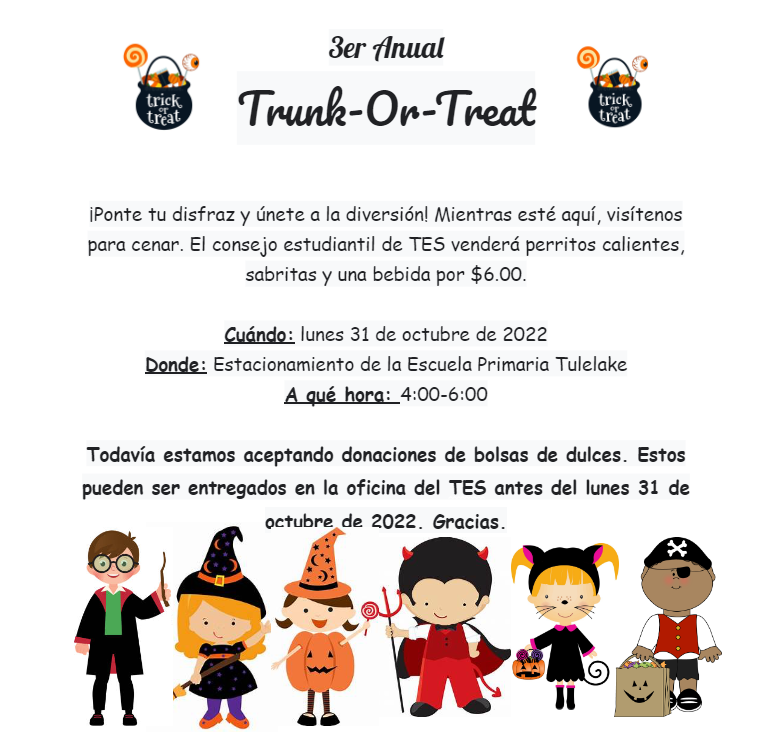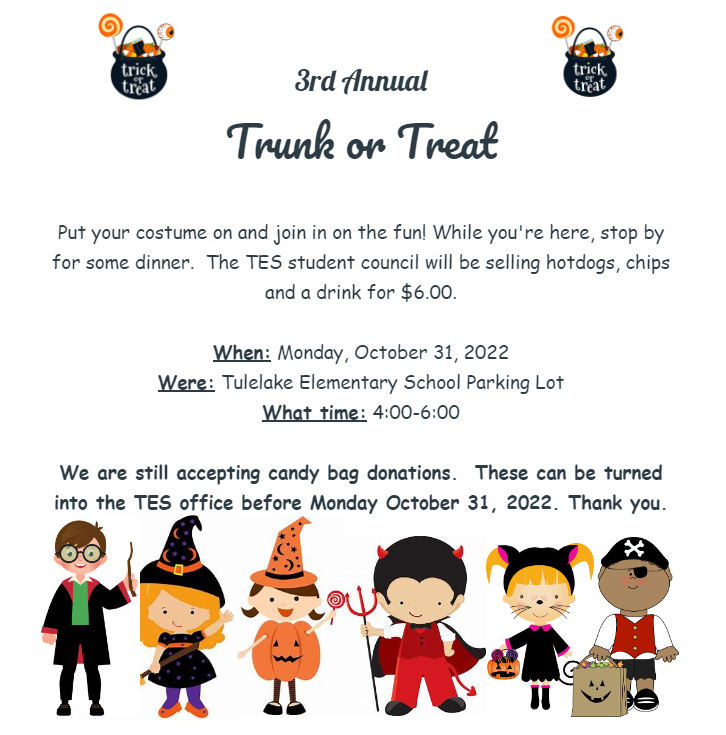 Friday, October 21 is a minimum day for all students El viernes 21 de octubre es un día mínimo para todos los estudiantes.

There is a 6th grade Parent Meeting Wednesday, October 5th at 6 pm in Room 26

TBJUSD would like to welcome Misti Norby, Deputy Superintendent of Modoc County Office of Education as the interim Superintendent for our district.

A batch of sandwiches served at lunch today had to be replaced due to being inedible. Un lote de sándwiches servidos en el almuerzo de hoy tuvo que ser reemplazado debido a que no era comestible.

Tulelake Elementary Picture day is Monday, September 19. You can order pictures using the order form your student brought home or by going to mylifetouch.com and entering our Picture Day ID: EVTFDBHNT

Wednesday's are early release days. All students will be dismissed today, Wednesday, August 24, at 1:50 p.m. TASSEL will be dismissed at the regular time. Los miércoles son días de salida temprana. Todos los estudiantes saldrán hoy miércoles 24 de agosto a la 1:50 p. m. TASSEL será despedido a la hora habitual.

August Lunch Menu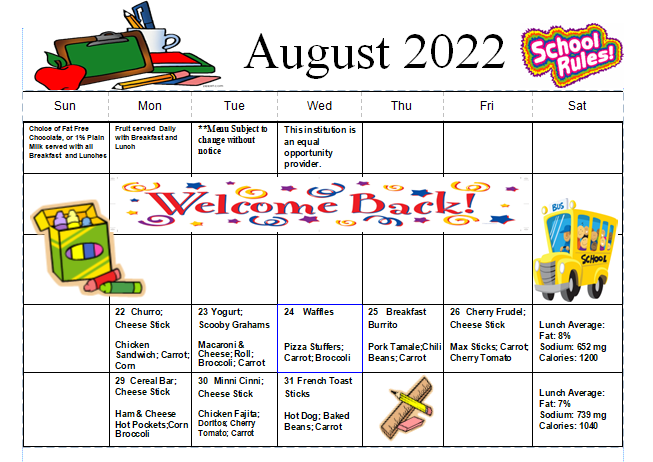 Newell Health Fair: Saturday, July 30, 2022 from 11:00 am - 2:00 pm at the Newell Community Park Information Booths, Activities for children, food and fun(While supplies last)! Free Walk-in COVID Vaccine Clinic! For more information please contact Myra (530) 708-2036 or
myrachavoya-perez@co.modoc.ca.us

THS and TES Open Registration for Kindergarten and 7th Grade Students on August 16th and 17th from 8am-4pm in the Tulelake High School Gym.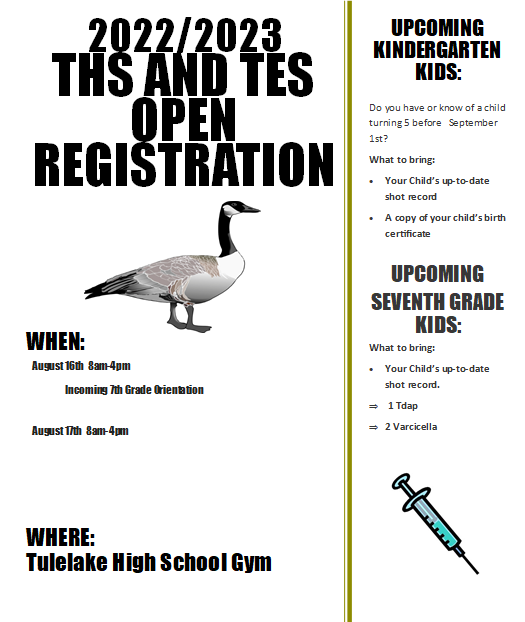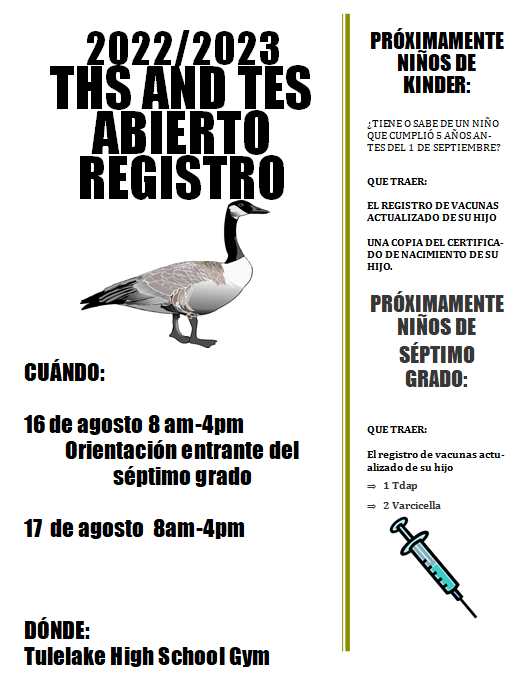 Community Training